Ten Four Has Been Making Residential and Commercial Landscapes in Norfolk MA Beautiful Since 2012
---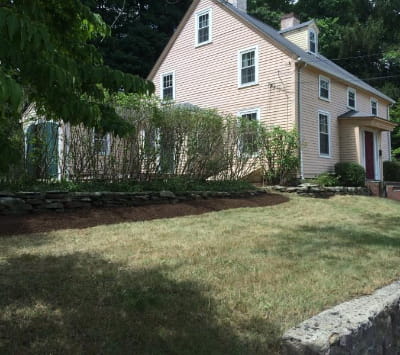 A Dedicated Owner with Over 18 years of Landscaping Experience
Back in 2001, Seth Dias had begun doing landscaping in elementary school as a way to make a little bit of extra money. Every weekend, his father would drive Seth and his equipment to each location. Eventually, he attended Norfolk County Agricultural High School to expand his knowledge in the landscape industry. What had started as a way to make extra money, soon flourished into a full-time passion and lifelong career. Since 2012, Ten Four has been providing residential and commercial properties professional landscape maintenance, design, and construction services that keep properties looking their best.
---
The Only Company You'll Need for Year-Round Landscaping Services
Since 2012, the Ten Four company has grown into a team of professional, passionate employees ready to handle any job. We provide specialized services to homeowners, business owners, property management companies, and more. Our highly trained and skilled team of landscapers only use the best equipment for each job. From landscape maintenance and snow removal services to landscape construction and design, our crew goes above and beyond for our customers.
---
What to Expect When You Work With Us
At Ten Four, we understand the importance of keeping your landscape looking beautiful and healthy. Which is why for each service, we will collaborate closely with you, walk your property, and get a feel for the scope of your project. More importantly, we closely listen to your concerns and ask questions that'll help us better serve you. Whether you need lawn mowing and fertilizing or shrub and tree planting, you can count on the Ten Four team for all your landscape needs and improvements.
---
We're Committed to Professional Services and High-Quality Results
Our team has earned an outstanding reputation for providing exceptional landscape maintenance, design, and construction services. The growing number of clients we have each year reflects our commitment to excellent customer service for each job we perform. Our professional and dependable team uses only the best equipment and tools to ensure quality workmanship and exceed expectations. To learn more about our landscape services, please give our team a call today at (508) 505-5416. We will be happy to answer any questions you may have or come out for a free estimate.
---